___________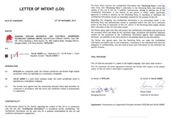 At the end of  2014, VALUE ADDED, as an investment advisor, has signed an agreement on joint action with the representative of Chinese investors in Europe, INTELION company.
The object of the agreement is representation and identifying investment opportunities for investors from the Republic of China and other Asian countries.
With the new partner VALUE ADDED is also prepared to assist local companies to enter the Chinese and other Asian markets.

VALUE ADDED, a.s.
Investment, Financial, Economic and Law Consultancy Company

The consulting company VALUE ADDED offers the complete range of services of a team of economists and lawyers who are able to put their unique experience at your service in the Czech Republic.
We are ready to help you

•  in the operation of businesses, banks, state institutions and non-profit organizations,
•  with the sale of property, shares and companies,
•  with investment banking,
•  with the utilization of financial analyses and assessment of companies,
•  with appraising and recovering debt,
•  with the proper and economical removal of hazardous waste and other old ecological damage,
•  with practical implementation of the laws on securities and bankruptcy,
•  and with communication with the media, banks and state institutions.
Our ability to perform these services in based on a comprehensive familiarity with the investment environment and a detailed knowledge of a wide range of investment opportunities and potential investors, and our work covers the commercial, financial, legal and tax aspects of the case.

The principles by which our firm is run:
- the use of the best people for every job
- a personal approach to our clients
- competitive prices
- a complete range of services
- the exact tailoring of our services to every job
- a high level of communication
- flexibility
- our best effort for every job
- discretion
- the elimination of conflict of interest